Spider and partners are engaged in a research project exploring telehealth solutions for earlier detection and better treatment options of cervical cancer. The mortality rates in East and Southern Africa are among the highest in the world. One of the reasons is that the disease is detected late, which means that treatment options are more limited and less effective.
The word "tele" is derived from Greek, meaning "at a distance". Therefore, the term telehealth refers to the use information and communication technology (ICT) to deliver healthcare to remote communities where the formal hospitals are missing or hard to access. Evidence suggests that telehealth can increase quality of healthcare for rural populations and reduce overall cost of care by bridging the skills and physical gap between rural facilities with specialist health professionals in referral hospitals.
In high income countries, telehealth has become part and parcel of healthcare delivery in rural communities. However, the greatest impact of telehealth can be realised in low resource settings overwhelmed by system-wide challenges such as shortage of healthcare workers, inadequate infrastructure, unreliable political climate and inadequate funding. There is evidence of increasing use of mobile technologies by community health workers in resource limited settings, particularly in maternal and child healthcare provision, and HIV and sexual and reproductive health prevention, care and treatment monitoring. Telehealth could enhance quality of care. But there is need for more evidence on how telehealth can be effectively used to tackle some of the challenges faced in healthcare provision in low resource settings.
Spider is currently engaged in a research project carried out by researchers from Kenya, Rwanda and Zambia. The researchers focus on the ways in which telehealth can be deployed to link health care workers through knowledge sharing to enhance cervical cancer screening and care in low resource settings. The aim of the research project is to develop a Telehealth implementation framework that can be used in similar resource limited settings.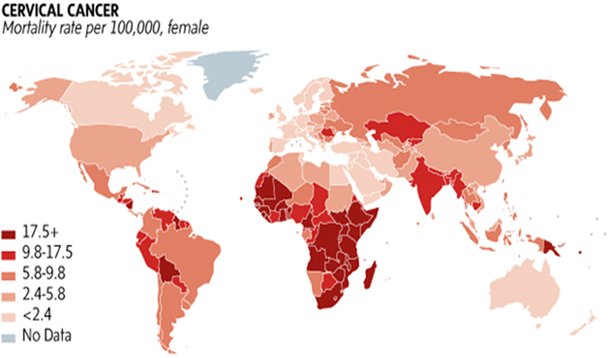 Why Eastern and Southern Africa?
The region has the highest mortality rates from cervical cancer (Source: Global cancer map) largely because women who are diagnosed with the disease in the region tend to be diagnosed too late and therefore cannot fully benefit from the treatment options that may be available in their settings.
There is an opportunity to improve the health of women in a region that also has the highest burden of poor maternal and child health as well as high HIV prevalence, which increases the risk of cervical cancer. The project thus has a potential to contribute towards gender empowerment through screening and prevention of cervical cancer. This could contribute towards the achievement of sustainable development goal 3 and 5 (links to SDGs) from the 2030 agenda adopted by the UN general assembly in September 2015. Gender equality is a potential strategy for improving maternal and child health in Africa.
When is this happening?
The project will be carried out over five years, dependent on the success of the first and second phases that dedicated to needs assessment, stakeholder mapping and finding investors. Spider is the sole investor in phase one of the project, that started in March 2016.
This is the needs assessment phase. It involves gathering views of local stakeholders on the existing opportunities and the necessary resources required to facilitate successful application of telehealth in cervical cancer screening in selected sites in Kenya, Rwanda and Zambia.
The phase also involves identification of telehealth solutions that can be used in cervical cancer screening in the selected settings. The findings will inform a telehealth implementation framework that can be used for telehealth solutions in cervical cancer screening in low resource settings.
The second phase of the project which will also last six months and will be a stakeholder mapping phase. It will involve presentation of the findings of phase 1 to various relevant stakeholders. The aim will be to solicit interest in Telehealth application in the selected countries, or other low resource settings and to finance the implementation of telehealth in cervical cancer screening based on the developed implementation framework.
The third phase will be telehealth implementation phase. It will last for 36 months. It will involve capacity building of local experts to effectively use Telehealth in their daily work, needs assessment for new target facilities, implementing suitable telehealth applications in cervical cancer screening, data collection and analysis and monitoring and evaluation.
The last phase, projected to last 12 months, will be project sustainability phase. It will involve project evaluation, financially sustain the project, further training of local experts on relevant telehealth skills, engagement of local authorities or governments to consider potential takeover, identification of suitable private sector stakeholders with an interest in playing a role in telehealth in the selected countries and ultimately project handover to local stakeholders.
What's next?
The goal for 2016 is to have collected evidence and bring key stakeholders together to ensure that this five year plan becomes reality and is fully owned by the local stakeholders in countries involved. This research is just the beginning to create a solid foundation to ensure successful use of ICT for earlier detection of cervical cancer in low resource settings, which will ultimately lead to better health and wellbeing for rural women.
The partners at DSV (Sweden), Urunana Development Communication (Rwanda), Zambian Health Informatics Association (Zambia) and Stockholm Environment Institute (Kenya) are well underway in making needs assessment and analysis of data to seek consensus among stakeholders to enable a joint effort in creating a sustainable framework for telehealth to improve rural women's health.
Get involved
Spider and partners are actively looking for additional partners that can contribute to this project, to invest in the coming stages or by providing knowledge and time for implementation or sustaining the project. If you wish to get involved, send an email to health@spidercenter.org. We are currently looking for partners for stakeholder mapping in phase two, and potential partners for the implementation phase as well as investors for the coming phases.